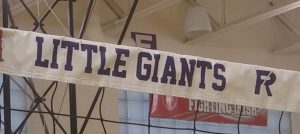 SANDUSKY – With the season winding down, Ross' volleyball team is starting to peak.
The Lady Giants played strong and fats out of the gate, a constant struggle this season, and played two strong, nearly error-free sets Tuesday night even though Ross came away from Sandusky Perkins with a three-set loss, 22-25, 19-25, 10-25.
Jazmin Bulger led the Ross attack with seven kills while Olivia DeRodes had six.
AnneMarie Moses added six kills to go with 18 passes and six digs. Olivia Baptista made three kills with a team-high 16 digs.
Lindsay Weickert led Ross with 30 passes along with 15 digs. Sara Hrynciw totaled 11 assists with six digs while Izzy Held had eight assists and seven digs.
The Lady Giants play their final regular season match Thursday at Toledo Central Catholic before traveling to Toledo Start for the opening of district play next Wednesday.
For more details, visit the Ross Sports Report.